Previous Activities

AETOC 2017 held in Billerbeck, Germany
The 10th jubilee edition of the international workshop "Application of Electrochemical Techniques to Organic Coatings" (AETOC) took place from 25th until 28th of April 2017 in Billerbeck near Münster, Germany. The purpose of this workshop under the auspices of the EFC working party Coatings is to provide a platform for the intensive discussion of newest results in coatings research obtained with mainly electrochemical methods. It offers a unique occasion to meet all major experts in this field and combines two topics which are usually not found in such a focused workshop format during other conferences on coatings or electrochemistry.
After initiation in Schliffkopf (Germany) in 1999, this workshop has been organized every two years and took place previously in Jurata (Poland), Sintra (Portugal), Villard de Lans (France), Bayona (Spain), Grado (Italy), Mons (Belgium), Emmetten (Switzerland) and Ile de Ré (France). For the 10th jubilee edition it was decided to come back to Germany now. Thus Wolfram Fürbeth (DECHEMA Research Institute and at the same time chairman of the working party Coatings) took the responsibility for organization together with Patrick Keil (BASF Coatings) and the German Corrosion Society GfKORR.
The place of the nice conference hotel in Billerbeck in the so called Münsterland allowed the workshop to have a start at the Museum für Lackkunst which is owned by BASF in the city of Münster and was a good meeting point to reach by public transport. There a very interesting but more artistic view on paints and lacquers could be gained. After a short transfer to Billerbeck the workshop started with 57 participants so that all booked hotel rooms could be filled. Several renowned scientists and EFC officials were amongst the participants and with Professor Idalina Aoki one lecturer had even come over from Brasil. So all participants could experience a highly qualified lecture programme with 27 presentations dealing e.g. with water uptake of coatings, self-healing phenomena, coating degradation or even biological systems in corrosion protection. All presentations as well as a small exhibition of electrochemical equipment gave rise to intense and fruitful discussions. As usual a special issue of Progress in Organic Coatings has been organized to publish the presentations afterwards.
The social event was this time a rustic tour with a covered wagon moved by the power of two horses followed by a visit in a distillery producing so called Lagerkorn which is quite typical for the Münsterland region. As it was the 10th jubilee edition the dinner on the last evening was enriched by a dinner speech given by Jörg Vogelsang. As the founder of AETOC he showed pictures and told some stories from all 10 editions held so far. However, the history will continue as Jörg could also announce that the 11th edition will be held in 2019 in Spain organized by Julio Suay.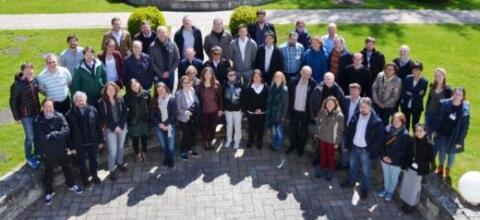 ---
back to previous page