Current Activities
Business Meeting
Next Business Meeting at the upcoming virtual EUROCORR congress
---
Knowledge transfer
Due to the interdisciplinary nature of the subject, the knowledge sharing between various actors is an important part of the WP net-working activity. Organization of workshops, seminars, and symposia with respect to the basic understanding and industrial application will be part of this strategy.
Main interests for the Working Party, but not limited to are:
Electrochemistry under thin water layers and reliability of electronics
Corrosion failure modes and mechanisms related to electronics
Process cleanliness, design aspects, and interaction with humidity
Corrosion mitigation strategies and early prediction for electronics
Testing methods and standards useful for humidity effects
Specific corrosion issues related to material in electronics and components
Importance of enclosure design and various levels of packaging
And prospective industrial sectors for the Working Party include:
Power electronics and control systems
Electronics for offshore applications
Electronics for energy systems
Automotive electronics
Aerospace electronics
Consumer electronics
Medical electronics
---
Get involved!
If you wish get involved with EFC and the activities of the Working Party please click here to register!
Mission

Electronic devices, components, and products world-wide today face corrosion reliability issues resulting in premature fault and intermittent or permanent failures due to humidity exposure. The humidity related functionality issues and corrosion problems compromise the durability and reliability of the devices resulting in huge economic loss. Often a faulty signal or erroneous function by an electronic device is linked to the water layer formation on the surface of the printed circuit board assembly (PCBA) resulting from the humidity exposure and the water layer acting as electrolyte for electrochemical processes. Problem is compounded today due to a number of factors specific to the electronic devices such as miniaturization, high level of integration, and multi-material usage on the PCBA. These factors together with the applied potential bias when the device is working and contamination introduced during the manufacturing process causes a number of humidity related failure modes in electronics. Today electronic devices and control systems are part of almost all installations exposing them to all climatic conditions from clean room to severe offshore conditions.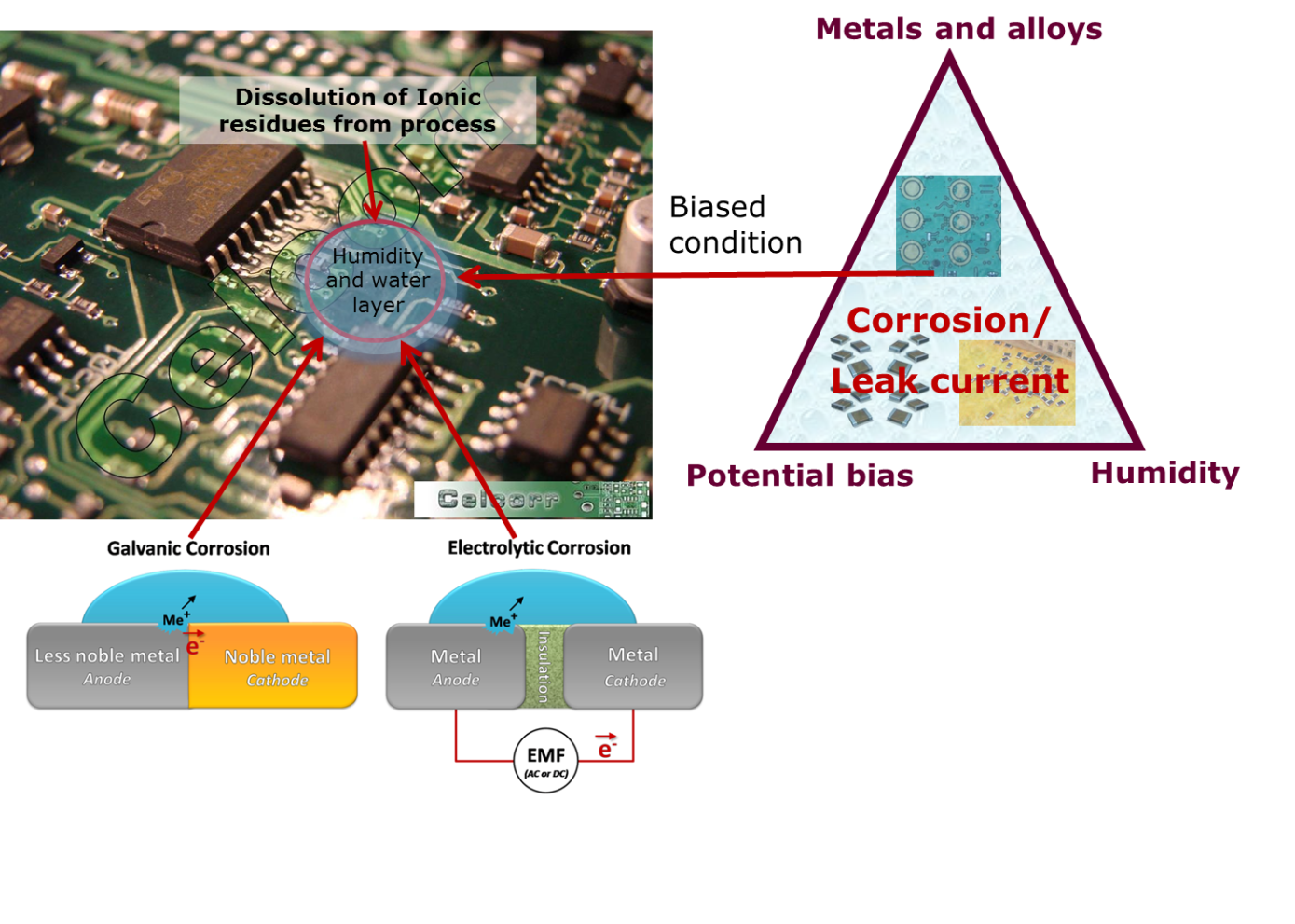 Corrosion failure modes under humidity exposure conditions includes: leak current failures due to surface insulation reduction, electrochemical migration, galvanic corrosion due to micro-galvanic cell formation, creep corrosion, and corrosion caused by gaseous environment. Leak current and electrochemical migration issues are of particular importance due to the possibility of intermittent or permanent electrical functionalities issues causing device breakdown.
Both industrial electronics and consumer electronics suffer from corrosion reliability issues and the exposure conditions vary from humid to harsh environments. Therefore, incorporating enhanced corrosion performance in the design is relevant for all, which needs collaborative effort between interdisciplinary areas namely electronics, electrical, and corrosion specialists enabling remedial measures based on proper understanding of corrosion and electrochemical mechanisms.
The vision of this Working Party is to build the necessary interdisciplinary understanding required for solving the corrosion reliability issues at European level merging the expertise of various actors and to identify the industrial, and research and development needs, share knowledge and ideas, and develop information net-work at international level.

Research and development
This Working Party activity focus on understanding the root cause for humidity related failures based on corrosion and electrochemical mechanisms combined with electronics and electrical aspects. Improved understanding will be useful for developing mitigation strategies and predictive tools for PCBA and device design at various levels. Working Party also focus on sharing and comparing information on various test methods and methodologies used for analysis.
Previous Activities
Workshops
Workshop on Corrosion reliability of electronics, Eurocorr 2014, 8-12 September 2014, Pisa, Italy
Workshop on Corrosion reliability of electronics, Eurocorr 2015, 6-10 September 2015, Graz, Austria
Workshop on Corrosion reliability of electronics, Eurocorr 2016, 11-15 September 2016, Montpellier, France
Workshop on Corrosion reliability of electronics, Eurocorr 2017, 3-7 September 2017, Prague, Czech Republic
One day seminar on Climatic reliability of electronics: Global perspectives and challenges, 28th January 2016, DTU, Lyngby, Denmark
2nd seminar on Climatic reliability of electronics: Global perspectives and challenges, 19-20 January 2017, DTU, Lyngby, Denmark
Training of GfKORR guide line for the application of protective coating of electronic assemblies Ingolstadt, Germany, 2018 November 21st and 22nd.
This guideline and its training is established because of the awareness that comprehensive and elementary knowledge of the coating and its performance on electronic assemblies is mandatory. In order to achieve proper protection by coating , it is necessary to analyze the entire process. This training based on the guideline shall help examine the process in practice, from the layout to the functional test of the assembly after coating.
Workshop on "Corrosion reliability of electronics devices" as part of the EUROCORR 2018, 9-13 September 2018, Krakow, Poland (More information will appear soon)
3rd Seminar on Climatic reliability of electronics: Global perspectives and challenges, 30-31 January 2018, DTU, Lyngby, Denmark (More information will appear soon)
Working Party meeting presentation/minutes
Task Group meeting, Eurocorr 2016, Montpellier, France
Working Party meeting, Eurocorr 2017, Prague, Czech Republic
Members area
The following pages are restricted to members of the EFC Working Party (EFC Task Force).
EFC is working with the DECHEMA Community-Tool. If you attended former events of the EFC (e.g. EUROCORR) or DECHEMA, your address may be registered already. Please fill in these login details below.